Art is something that we can appreciate at any age or walk of life. It is one of those activities that is fun because it is open to interpretation, allowing anyone and everyone to express themselves in a creative space. Photography, painting, craft projects – art has so many mediums to explore and there is sure to be the perfect fit for you!
As a matter of fact, art can be especially beneficial to those with Alzheimer's or dementia. If you have a senior loved one who resides in a San Diego memory care facility, you will want to keep reading to learn more about art therapy and how it can be helpful to older adults. 
Great for Brain Stimulation
While there is no cure for dementia, there are ways that you can stimulate the brain and keep it active which in turn helps combat some of the symptoms. By stirring up past memories of times long past, art can help unlock parts of the brain that may have been sealed away. If there was a type of art your loved one enjoyed participating in throughout their life, it can help trigger positive memories. 
Not only that, but art helps create a sense of accomplishment. Sometimes, seniors in dementia memory care can feel like they're losing their independence. Some day to day tasks that they used to do by themselves are no longer possible or can only be done with assistance. This is, understandably, quite discouraging. However, art is something that can be done regardless of the stage of the individual's dementia. Creating makes us feel accomplished. 
Art therapy stimulates the brain. There have been studies conducted that actually show how art therapy has boosted cognitive function in different parts of the brain. This has helped to improve communication and social interaction among seniors with dementia. 
Improves Communitcation
Depending on the severity of progression, those with dementia can struggle to communicate. However, art therapy can actually help spark more non-verbal cues, such as smiling, laughter, and even movement. Seeing a senior come to life in this manner is extremely rewarding.
If you are not sure where to start with art therapy, take a look at your loved one's hobbies, personal passions, and memories. There is no right or wrong way to go about art or art therapy. You just need to make sure you're taking everything about your senior into account. 
Ask yourself a few simple questions:
Do they have any mobility issues to be concerned about?

What is feasible in their living space?

Do they have any preferences? 

Have they shown an interest in art before? If so, what specific mediums?
This will help give you a launching point. Plus, you can always talk to our staff here at our San Diego memory care facility. We offer our residents a diverse range of activities on our event calendar, including art and other craft projects. We would be happy to discuss what we've noticed your senior take an interest in and help provide some insight. 
Look at Various Art Activities
Art is so much more than pencil and paper drawing. While there is certainly nothing wrong with that, some seniors might like a more hands-on approach to art. Digging in and doing something tactile can be more fun and memorable than just scribbling on paper.

Sculpting and playing with modeling clay can be a ton of fun! Seniors can make shapes, bowls, pottery – anything they like! This would also be a great option to do together with grandkids or other little ones.
Pick up a set of charcoal pencils to gift to your senior loved one. Drawings with charcoal pencils are not meant to be 'perfect' or look a certain way. They are often messy and abstract, so you don't have to worry about whether your piece looks like the next Mona Lisa or not.
Everyone loves a homemade greeting card! With Valentine's Day coming up here shortly, this could be a great way to celebrate. Help your senior make cards for friends and family as well as other residents or even the staff at their San Diego memory care facility. It is a gesture that is sure to be appreciated! All you need is construction paper, pens, and stickers, and you're good to go. 
Here is an activity that can be as simple or complicated as you like. Making homemade jewelry can include weaving together colorful strands to produce a friendship bracelet. Or there are a huge variety of jewelry making kits that you can purchase either online or at your local craft store. Necklaces, earrings, keychains, bracelets – you name it, and your senior can create it! These also make wonderful, sentimental gifts.
Canvases come in all shapes and sizes, from a size that fits right on a nightstand or desk all the way to a huge conversation piece that can hang as the focal point in a living space. The most important thing to keep in mind here is what space accommodations are available. However, from there, grab whatever paints you like: acrylic, watercolor, oil-based. Just let your imagination run wild.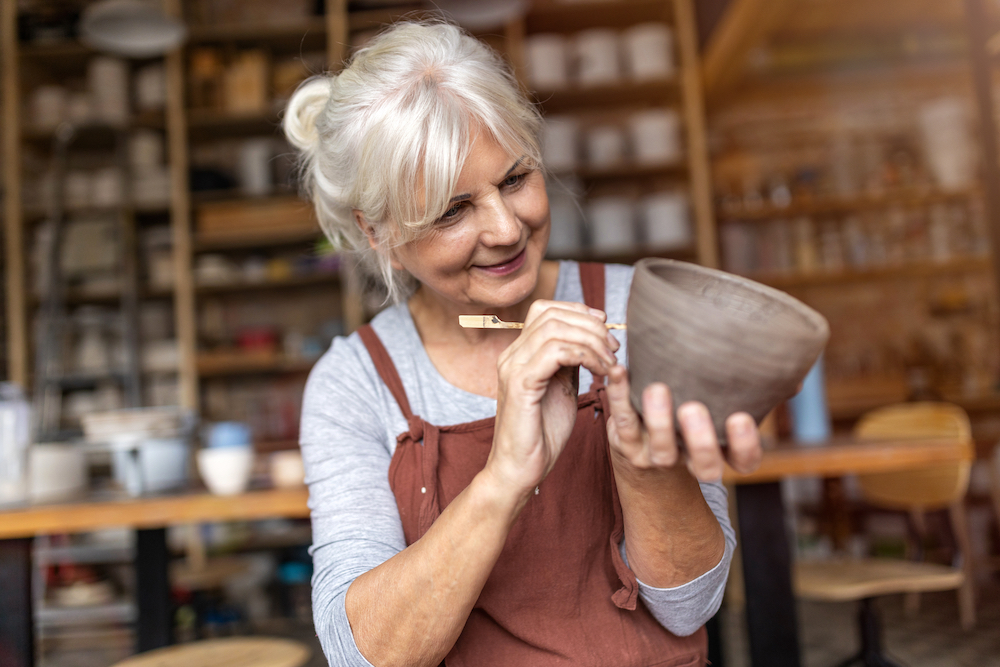 Start Slow
Depending on your senior's health, it's important to start off slow or with a small project. Even if they enjoyed painting the past, looking at a massive, blank canvas may seem overwhelming. It is best practice to begin with a small project. Creating doesn't have to include something huge in order to be fun and stimulate the brain! 
Cloisters Memory Care
Here at Cloisters, we understand the very specific challenges and accommodations that come with caring for a senior with dementia or Alzheimer's disease. In fact, memory care is all that we do. We want to provide the best care for our residents, and that includes providing them unique activities and opportunities to boost their cognitive function, and that includes art therapy. 
If you have a senior loved one who has been diagnosed with Alzheimer's or dementia, contact us today to learn more about our San Diego memory care facility and just what services and amenities that we offer.