Spending time outdoors is important for people of all ages, though it does have especially pertinent benefits for seniors. Winter weather can certainly put a damper on the amount of time one can spend outdoors, but if you stay at one of the senior living facilities in San Diego, odds are good that you will have some sunny California weather to enjoy. 
Going on a walk with a friend or beloved family pet, bird watching, or simply just sitting in a sunny spot in the garden can reduce anxiety, give you a boost of Vitamin D, and even add some time to your lifespan. 
Interested in learning more? Keep reading to discover the benefits of stepping out and getting fresh air on a regular basis!
1.) Reduce Overall Depression and Anxiety
Did you know that spending time outdoors decreases negative feelings, such as depression, anxiety, stress, fear, or anxiety? Just getting out and about can immediately brighten one's mood. In fact, based on a study, data showed that seniors who spent time outdoors slept better at night and reported feeling generally overall better.
So the next time you are need of a little pick me up, try going for a stroll. Here at Cloisters of the Valley, we have a beautiful, secure garden area where you can enjoy spending time in nature but in a way that is safe. With a series of comfortable seating and boasting gorgeous flora, you will find an oasis in our outdoor area. Ask a friend or one of our staff to accompany you if you'd like some company! 
2.) Soak Up Vitamin D
If there is one nutrient that you need as an older adult, its Vitamin D. Vitamin D helps aid in the absorption of calcium, which is vital for maintaining bone strength. As we age, we tend to lose bone density and that can leave us at extreme risk during falls. Other than milk or yogurt, one of the best natural sources of Vitamin D is actually sunlight. 
When exposed to the sun, our bodies can produce large amounts of Vitamin D. In fact, seniors can make an adequate amount of Vitamin D in no time at all, anywhere from 8-15 minutes when exposed to sunlight. So before you lather on that sunscreen, if you're just doing a quick walk outdoors, you can skip that step to make sure you get adequate absorption. However, for extended trips outside, be sure to take proper precautions to avoid overexposure. 
3.) Improve Your Memory
Looking to improve your memory? Spending time outdoors could actually help with that! In fact, according to a study conducted by the University of Michigan, enjoying even an hour outside can improve memory by up to 20 percent. That is because being outdoors can actually have similar benefits to meditation. Meditation has been proven to improve blood flow and in turn, help with memory. 
For an even bigger memory boost, older adults can actually try meditating while outdoors. In order to do this, dress in comfortable clothing and grab a nice, shady spot. Try clearing your mind and simply focus on breathing. Start with small increments of time and see if you can build up to longer. Talk with a staff member at your senior living facilities in San Diego to see if something like this can get added to the activity calendar. Group meditation is very popular.  
4.) Lengthen Your Lifespan
Being out in nature could actually add years to your lifespan. Stress levels play a huge role in mortality rates and are often a contributing factor in serious and life-threatening health conditions, such as heart attacks and high blood pressure. On top of that, it can also strengthen the immune system, which is key for staying healthy longer and avoiding sickness. Added benefits include reducing the risk of Type II diabetes, cardiovascular disease, and high blood pressure. 
So if you're looking to stay healthier longer, head out for a walk! If you can, take your grandchildren to the park or a stroll around the zoo. If you have a dog, enjoy the scenic route around your neighborhood every once in a while to get just a little more time outdoors. If mobility issues are a struggle for you, even just sitting outside with a good book or to chat with a loved one is perfect.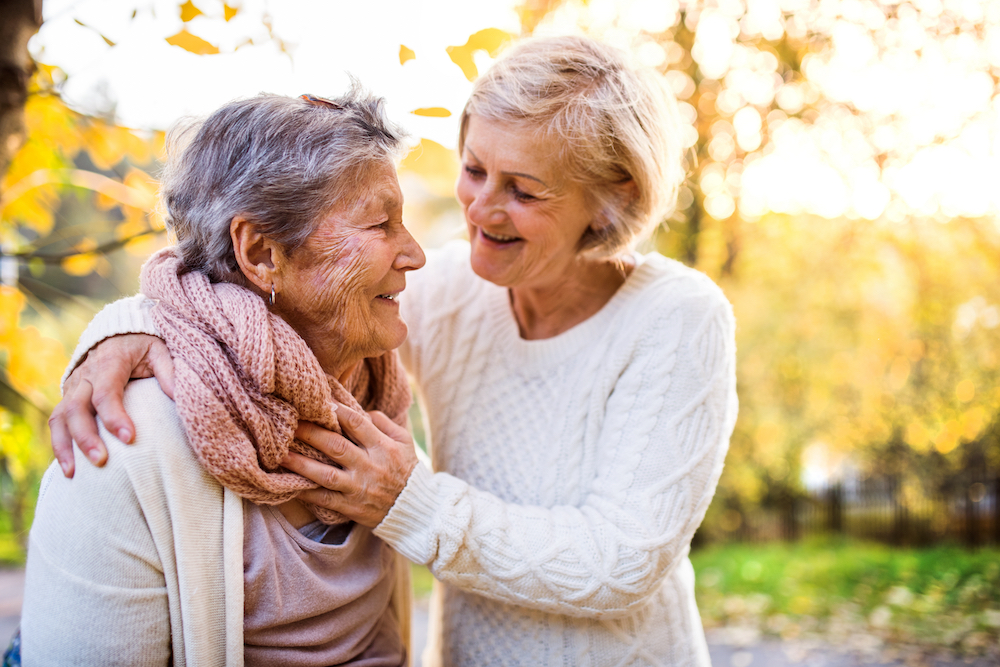 5.) Reduce Your Stress
The cool ocean breeze, the smell of the earth after a rain, the sound of birds singing in the trees – these are all soothing elements of nature and allow us to feel grounded and connected to the world around us. Nature has a calming effect on the body and mind, helping to lower blood pressure and relieve stress. Even just 20 minutes spent outdoors can help lower the stress hormones in our bodies. 
The next time you are feeling frazzled, try heading outside. Turn off the TV and put away your phone – instead, opt to go outdoors. For a social boost, grab one of your pals from your senior living facilities in San Diego and enjoy chatting while you go on a walk. Take turns sharing memories or discussing your favorite hobbies – keep the conversation positive and lighthearted for the added bit of serotonin. 
Cloisters of the Valley
Here at Cloisters, we are proud to bring you one of the top senior living facilities in San Diego. We prioritize our residents' health and well-being, encouraging them to take part in activities that keep their minds sharp and active. This can include partaking in activities such as puzzles, games, and even chair Zumba. It also means we want our residents to spend time outside when they can.
We know that getting fresh air is vital, and whenever the weather is ideal, we love for our seniors to enjoy our garden space. We have a gorgeous gazebo, as well as several outdoor dining tables and chairs with big shade umbrellas. Whether it is just a few minutes, or for at least an hour, we know our residents truly enjoy and benefit from their time spent outside.